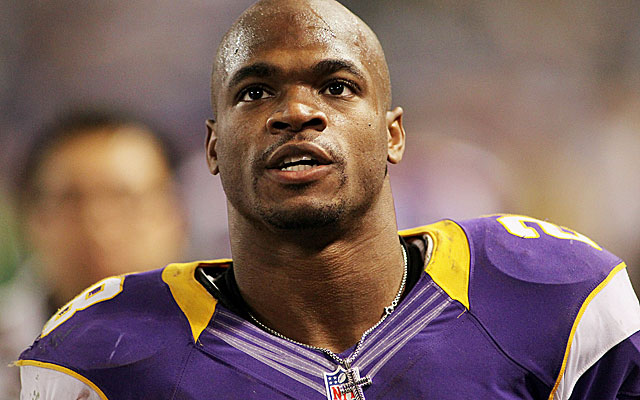 Hours after news surfaced Friday that Adrian Peterson had been indicted in Texas for "reckless or negligent injury to a child," the Vikings chose to deactivate their best player for Sunday's matchup against the Patriots.
Earlier in the day the Vikings released this statement: "The Vikings are in the process of gathering information regarding the legal situation involving Adrian Peterson. At this time, we will defer further questions to Adrian's attorney Rusty Hardin."
A short time later -- but before Peterson was deactivated -- Hardin released a statement: "Adrian Peterson has been informed that he was indicted by a grand jury in Montgomery County, Texas for Injury to a Child. The charged conduct involves using a switch to spank his son. This indictment follows Adrian's full cooperation with authorities who have been looking into this matter. Adrian is a loving father who used his judgment as a parent to discipline his son. He used the same kind of discipline with his child that he experienced as a child growing up in east Texas. Adrian has never hidden from what happened. He has cooperated fully with authorities and voluntarily testified before the grand jury for several hours. Adrian will address the charges with the same respect and responsiveness he has brought to this inquiry from its beginning. It is important to remember that Adrian never intended to harm his son and deeply regrets the unintentional injury."
The news comes at the end of a tumultuous week for the NFL, which has been heavily criticized for how it handled the case of former Ravens running back Ray Rice. On Monday, TMZ released surveillance video showing Rice punching his then-fiancee in the face and knocking her unconscious in an Atlantic City hotel elevator last February.
On Thursday, Peterson was asked about Rice.
Peterson spoke yesterday about Ray Rice: "All I have to say about that is I send my prayers out to Ray and his wife and wish him the best...
— Chris Tomasson (@christomasson) September 12, 2014
Peterson on Rice CONT... during this time. I wish them the best during this time and tell them to stay strong.''
— Chris Tomasson (@christomasson) September 12, 2014
source: http://www.cbssports.com/