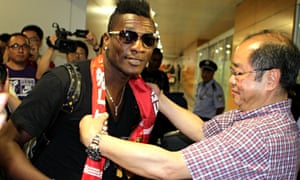 The Ghana captain says that he is only interested in making money for his family after signing a contract with a Chinese club worth €325,000 per week
Asamoah Gyan is baffled by criticism of the lucrative deal he has signed with Shanghai SIPG, pointing out that he hasn't robbed anyone of their money.
The Ghana captain last week
signed a two-year contract with the Chinese Super League outfit
that will reportedly earn him €325,000 per week, making him one of the top 10 best-paid players on the planet.
Gyan has been attacked in some quarters for accepting another big-money deal - after leaving Sunderland for UAE outfit Al-Ain 2012 - but he says that he is merely doing right by his loved ones.
"I don't understand the criticism," the 29-year-old striker told
BBC Sport
. "I work hard for what I earn. I am focused on my job.
"It is not as if I am doing anything illegal or robbing people of their money.
"I have learned to turn the negatives into positives and so I make my decisions and understand that everyone works for money.
"At the end of my career, people will not criticise me anymore. They will move on to the next person.
"And at the end of my career the most important thing will be how well I did for myself, my family and those closest to me.
"This time is my era so I have to make sure I make the most of it."
Gyan has been capped 90 times by his country, scoring 48 times in the process, which is a Black Stars record.
source: goal.com